In today's mobile-centric era, merely addressing the desktops's security is insufficient, especially as mobile devices become prime targets for intricate attacks. We offer an all-encompassing app that scrutinizes the entire traffic flow on the device, delivering enhanced security without any conflicts. Our solution seamlessly complements and even enhances the effectiveness of existing tools, without creating overlay issues, such as with VPNs.
This comprehensive approach enables us to introduce exceptional features. We have implemented a unique capability to detect malicious SMS within authentic chats, accompanied by a full-screen alert to enhance user awareness. Notably, for Android users, this function extends to WhatsApp
Mobile Security Features: Android and iOS Protection
INSTANT MESSAGING PROTECTION (ONLY ANDROID), CUSTOM CONTENT FILTERING, ZERO DAY PHISHING PROTECTION, CYBER SQUATTING & MALICIOUS URLS PROTECTION, SMISHING PROTECTION.
Supports Android 111 and later versions
Utilizes accessibility services.
Ermes is suitable for both managed and unmanaged devices.
It can be deployed via MDM or through a guided installation from the public Android store.
0-day phishing protection
Cybersquatting & Malicious URL defense
Content Filtering
Anti-Smishing measures
Exclusive WhatsApp Protection
Supports iOS 15.4 and later versions
Leaverages iOS Content filter
Devices managed with MDM in supervised mode
0-day phishing protection
Cybersquatting & Malicious URL defense
Content Filtering
Invisible User feature
Anti-Smishing measures.
Seamless Integration: Harnessing Android Accessibility &
iOS Content Filter
Our technology leverages Android's accessibility services and iOS's content filter, ensuring compatibility with other products operating at a security level, as a local VPN.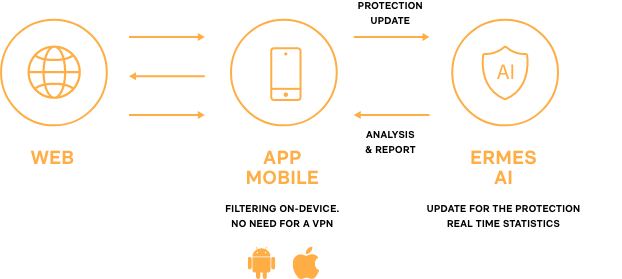 Defense against SMS phishing attempts
Personalized web content filtering
CYBER SQUATTING & MALICIOUS URLS PROTECTION
Guardin against phishing Zero-Day
ZERO DAY PROTECTION (ANTIPHISHING IN REAL TIME)
Safeguarding against cyber squatting and malicious URLs
Mobile Defense Mastery:
Battling Smishing & Phishing Threats
In this mobile-centric era, threats don't just come from suspicious emails or rogue websites. They infiltrate the very tools we use daily – our messaging apps. Recognizing this, our core strength lies in fortifying against smishing and phishing attacks on mobile platforms.
Yet, our mission transcends that.
Given the diverse landscape of mobile communication, we ensure our shield is expansive. Our top-tier protection spans throughout every messaging platform, from conventional SMS to contemporary chat apps. With Ermes Mobile Guardian by your side, every message is scrutinized for safety, assuring our users a malicious-free mobile experience
CONNECT
WITH YOUR
PEERS LIKE
NEVER
BEFORE!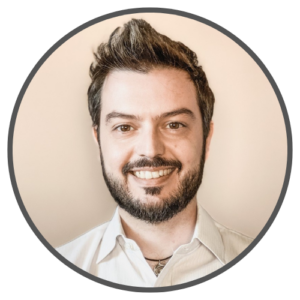 "Thanks to Ermes we found a very good solution to stop those threats because, for example, we got about 2000 cryptominers and more than 60,000 web trackers stopped by its technology. This is very good because you can understand how easily it is for those threats to pass undetected."

Matteo Herin, CISO Carrefour

"The thing I like most about Ermes is that since its installation, it has not required any interaction from me. As it works automatically, giving my company complete protection against next-generation phishing attacks.."

Paolo Buttigliengo, ICT Manager Unione Industriale Torino

"The simplicity of Ermes is astonishing, not a usual security tool. It was easy to install, Easy to manage, in a matter of minutes all company users were both protected from web threats and at the same time could browse faster without annoying contents."

Mauro Baldoni, CIO BonelliErede
no matter the problem,
we have a problem-solver
Ermes Mobile Guardian ensures a fortified mobile experience amidst increasing cyber threats. It focuses on enhancing the security of your mobile interactions, enabling stress-free browsing and communication.
Ermes CTI integrates effortlessly to boost your security incident response. It offers clear insight into audit logs, facilitating effective team work and real-time event sharing to counter security threats.
Ermes Web Care is designed to grant safe digital engagements. In an increasingly digital world, it provides essential protection for you and your family. all while preserving the pleasures of online connectivity.