In a rapidly evolving cyber landscape, where threats lurk around every digital corner, Ermes Browser Security has embarked on a transformative journey, one that places people and their security at the forefront. Our decision to undertake a rebranding is not just about changing our visual identity; it's a profound shift in our philosophy, a commitment to helping people and companies thrive in the digital age. 
Why We Chose to Undertake a Rebranding: To

Empower

People
Ermes Browser Security was founded by a team of web security experts and artificial intelligence researchers with a singular mission: to create safe work environments for companies, enabling them to unleash their full potential while remaining shielded from web threats. We recognized the crowded market of cybersecurity solutions that often fall short in the face of relentless hackers. Ermes took up the mantle of delivering the best and most efficient browser security software alongside high-level technical guidance. 
Our vision extends beyond being a mere practical solution provider. We aim to be seen as technical specialists and advisors, architects of secure environments that empower companies and their employees with freedom and security.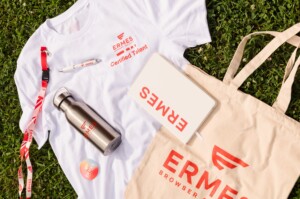 How Is the New

Ermes

:
Our new brand image reflects our unique Human-Centric approach: At Ermes, we firmly believe that the protection we offer is not just about thwarting cyber threats, t's about empowering individuals within organizations. We understand that when people feel genuinely secure in their digital environment, it sparks a profound transformation. This transformation manifests as a newfound sense of freedom, an empowerment to productivity, and a surge in creativity. 
Unlike commonplace cybersecurity branding, which often relies on fear-inducing messages and dark imagery, our focus is firmly on people. We are driven by the desire to help them work better, achieve better results, and do so in a state of perfect security. We are passionate about making individuals and companies feel safe, protected, and positively motivated. 
 As a result, we have deliberately chosen not to adopt the conventional cybersec brand image. Instead, we've crafted a colorful brand ambiance that stands out in the market, conveying our message of clarity, enthusiasm, efficiency, and productivity. Our new logo is a testament to this vision, featuring a wing, a symbol of Ermes, the Greek God of prosperity and protector of trade and travels, his role was ensuring the safe delivery of messages between the mortal and divine realms.
In Conclusion:
Ermes Browser Security's rebranding signifies a profound shift, centered on people and their cyber security. Our mission goes beyond traditional cybersecurity; it's about empowering individuals within organizations. We are confident that our top-tier protection doesn't merely safeguard data; it revitalizes the workplace. With Ermes, employees can work free from the constant fear of cyber threats. This renewed sense of security paves the way for enhanced freedom, enthusiasm, and creativity.